Introduction
Black Annis are a group of fun and friendly women who dance Cotswold Morris in the summer and Fenland Molly in the winter. We are available for bookings at outdoor and indoor events, providing a colourful, family-friendly performance (normally danced in slots of 15-20 minutes); we have danced at carnivals, fetes and other local events and performed as a booked side at Towersey, Beverley, Warwick and Chippenham and Cheltenham folk festivals.
We practice on Thursdays at 8pm in Church of the Martyrs Hall, Westcotes Drive, Leicester.
Contact us if you would like to join us or book us for an event.   These practices were suspended during the COVID crisis but we are hoping to restart on Thursday 2 September 2021.  Please contact us in advance if you wish to attend.
Angela Skelton Day of Dance Saturday 24 July 2021
On Saturday 24 July we will be dancing to celebrate the life of a much missed member of Black Annis, Angela Skelton.  We will be dancing at the following venues
11:30 am Bosworth Battlefield Heritage Centre
13:00 Donnington le Heath Manor
14:00 Cattows Farm
We would love to see you at one or more of these locations.
Black Annis have a new kit
After more than 40 years Black Annis have updated their Morris kit from purple britches to white trousers and added smart new waistcoats. We were proud to be able to dance in front of a live audience at Bosworth Battlefield and Shackleton Station on Sunday 30 May 2021.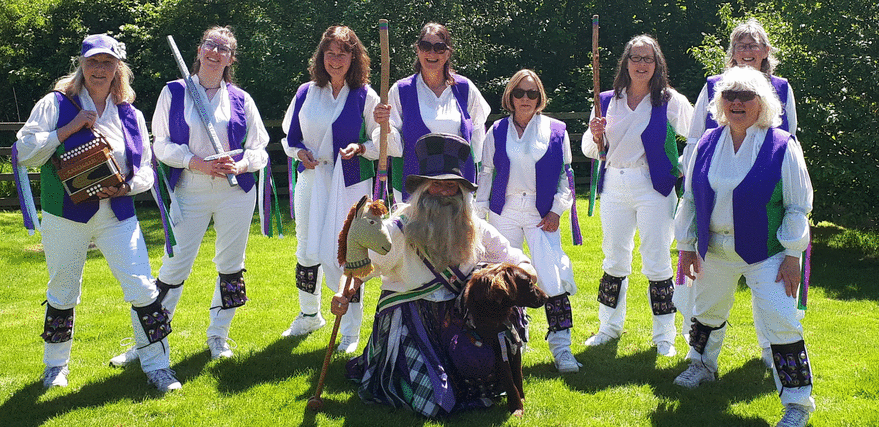 Black Annis at Bosworth 30 May 2021