Introduction
Black Annis are a group of fun and friendly women who dance Cotswold Morris in the summer and Fenland Molly in the winter. We are available for bookings at outdoor and indoor events, providing a colourful, family-friendly performance (normally danced in slots of 15-20 minutes); we have danced at carnivals, fetes and other local events and performed as a booked side at Towersey, Beverley, Warwick and Chippenham and Cheltenham folk festivals.
Black Annis practices are back: New members welcome
We practice on Thursdays at 8pm in Church of the Martyrs Hall, Westcotes Drive, West End, Leicester.
Please contact us if you would like to join us or book us for an event. 
2022 – Celebrating 40 Years of Dancing
Black Annis will be celebrating their 40th birthday this year.   We will be hosting an all day event for other sides on Saturday 2 July when you will be able to see different Morris teams at a variety of locations in Leicester City Centre.  For a full diary of events for 2022 please go to our diary page.
Black Annis have a new member
Created by Stephanie (also pictured), Horsey the hobby horse joined us in the Hastings procession this year. Please visit our 2022 Celebrating 40 Years Of Dancing page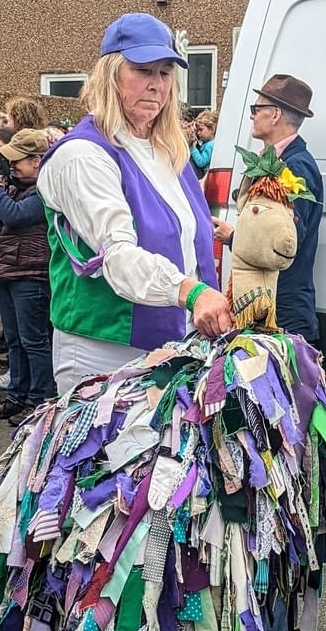 Black Annis have a new kit